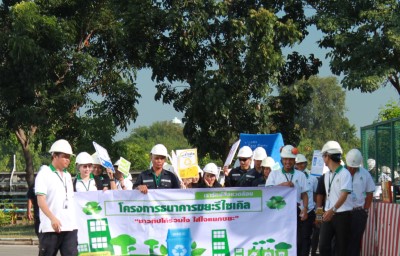 Nakhon Ratchasima Plant's 3Rs Waste Separation Project
5 April 2023 | The Nakhon Ratchasima Plant is implementing a waste separation project centered around the 3Rs concept – Reduce, Reuse, and Recycle – to enhance the efficient utilization of existing resources and consequently diminish waste volume. This project aims to curtail waste production by minimizing consumption, reusing materials, and recycling, all aligned with the overarching goal of waste reduction within the factory premises.
To facilitate this initiative, distinct waste bins have been strategically placed across various zones within the factory, each designated for a specific type of waste. This segregation aids in the separation of recyclable materials, ensuring effective waste management. Furthermore, a centralized storage area has been established within the factory premises to consolidate and manage materials earmarked for the 3Rs process.
As a result of these concerted efforts, substantial progress has been made in minimizing greenhouse gas emissions. A noteworthy reduction of 7,715.19 kilograms of carbon dioxide equivalent was achieved between January 1, 2022, and December 31, 2022.