Sustainable Procurement Management
Sustainable Procurement Management
Our close relationship with our business partners allows us to improve the standard and quality of our raw materials through knowledge sharing and activities that expands our notion of sustainable business development and growth

ISO 26000 ISO 9001 ISO 14001 ISO 45001 and TLS 8001
Through our sustainable procurement policy, we work closely with our business partners and stakeholders to create awareness and understanding of responsible approach towards sourcing of raw materials and development of internal processes to manage and monitor potential areas that may result in human rights or environmental violations in our supply chain.
Policy : Sustainable Procurement Policy
Customers, Communities, Suppliers, and Business Partners
More than 99.5% of raw materials and packaging are according to specifications
More than 95% of raw materials delivered according to schedule
Procure 153 million THB of Green Products per year
At least 63 million THB procured locally
Improve internal processes to increase efficiency of procurement
Utilize data analytics to better manage procurement processes
2022 Key Performance(s) :
97.99% of raw materials and packaging delivered according to schedule
100% of raw materials and packaging quality are according to specifications
Green Products Procured: 129 million THB
Local Procurement: 74.5 million THB
In 2022, we made efforts to expand our support for communities near our factory. In addition to promoting local products, we also broadened our concept and approach to community support. This included procuring and utilizing contractors from the surrounding communities of our branch factories in Thailand, amounting to a total of 74.45 million baht. This figure indicates a decrease compared to the previous year, which aligns with the economic and market conditions.
We are dedicated to continuously promoting the procurement of environmentally friendly raw materials, products, and services for use in our production processes and operations. However, in 2022, the value of green procurement amounted to only 129 million baht, representing a decrease from the previous year. This decline can be attributed to changes in the government's policy, specifically the reduced use of Natural Rubber Modified Asphalt Concrete. Consequently, the demand for raw materials used in the production of such products significantly decreased
We are committed to the consistent management of our business operations, which encompasses the establishment of policies and guidelines for sustainable procurement. Our goal is to enhance the value of goods and services from producers, service providers, and suppliers, focusing on value improvement from production to delivery, while also championing social responsibility throughout our company group's value chain
Vendors are categorized based on risk and their capacity to meet our established standards. This includes suppliers exclusively servicing us or those operating in a market with fewer competitors, as well as vendors supplying raw materials or primary packaging crucial to our production processes. Our key suppliers fall into two primary categories:
Primary Key Suppliers (Critical Tier 1 Suppliers): These are direct suppliers listed in our vendor database, providing goods and services to us. We continually evaluate these suppliers based on predetermined criteria, encompassing quality, pricing, delivery performance, labor standards, social responsibility, and environmental considerations. In 2021, this category comprised 43 suppliers, constituting 5% of all vendors.

Critical Non-Tier 1 Suppliers: These vendors supply goods or services to our Primary Key Suppliers (Critical Tier 1 Suppliers). No suppliers met the criteria for this category in the 2021 assessment."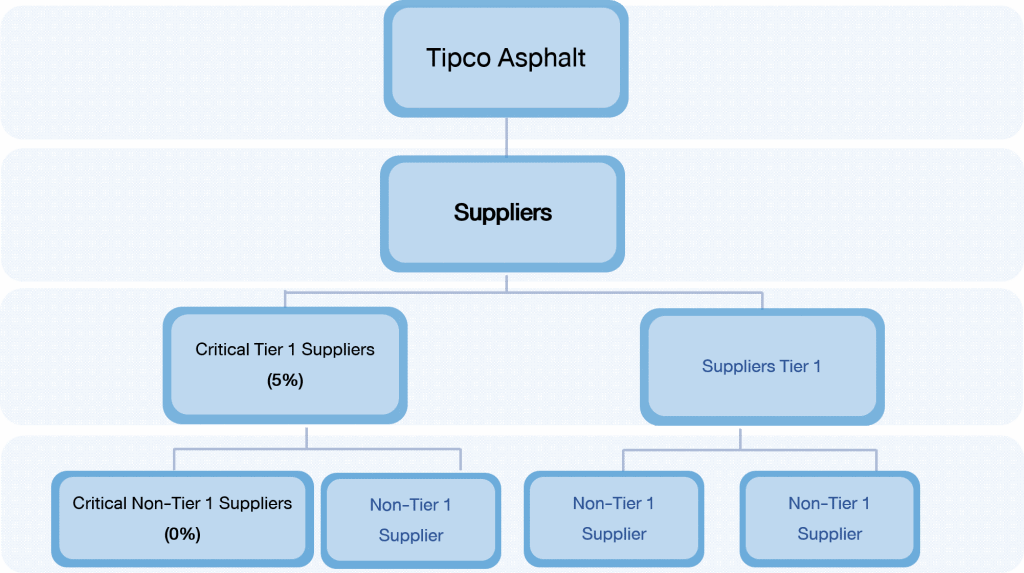 Sustainable Supplier Selection and Evaluation
When seeking and selecting potential new partners, the procurement department collects vendor information and evaluates their capabilities based on the organization's predefined criteria and standards. This evaluation encompasses quality, pricing, delivery, Thai labor standards, human rights compliance, workplace safety, social responsibility, and environmental preservation. Vendors meeting the company's criteria are included in the registered partner list for further procurement consideration.
In 2022, one new partner was added to the list, subject to evaluation based on the specified criteria.
For partners already registered, the procurement department conducts re-evaluations after each product delivery, following the organization's procurement guidelines. These evaluations occur every 6 months, covering product quality, pricing, delivery capabilities, and lead times.
Environmental, Social, and Governance (ESG) assessments involve two methods: on-site visits to partners' operational areas and self-assessments by partners. These annual evaluations encompass ESG-related issues, partner-originating risk reviews, and adherence to the 'Business Partner Code of Conduct.' Criteria include partner risk level, significance as a supplier, value of previous-year purchases, and resumption of orders after 400 days of inactivity.
| | % of Critical Tier 1 Suppliers (2022) |
| --- | --- |
| | |
| | |
| | |

* ESG evaluations cannot be conducted at the vendors' operational sites due to the COVID-19 pandemic. This situation has resulted in vendors not allowing site visits
Developing and Supporting Suppliers

We recognize the significance of nurturing resilient local businesses that can achieve self-sufficiency. Our group of companies is fully committed to nurturing the growth of business management expertise among local partners, especially those situated near our branch factories.
This dedication also extends to promoting the procurement of environmentally friendly products and services, as well as raising awareness among partners about the environmental impacts of production processes. Our objective is to enhance our business operations through the implementation of environmentally conscious procurement policies and by providing support to partners who embrace eco-friendly practices.
Above all, we understand that the long-term success of promoting sustainable local sourcing and environmentally friendly procurement relies on the development of knowledge and the creation of awareness. Our procurement and supply chain personnel play a pivotal role in driving these initiatives with steadfastness and integrity. As a result, we are fully committed to enhancing their learning in these domains.
In the past, we have facilitated the growth of partners through the Green Network, a level 5 green industry program that instills a green industry mindset among partners and collaborators. This has yielded improved understanding and acceptance between the industry and the community, leading to resource and energy conservation, cost savings, and competitive opportunities. In the year 2022,
the Phitsanulok Factory achieved a level 5 green industry certification from the Green Network,
highlighting our continuous dedication to a green supply chain. We remain committed to assisting partners and collaborators in obtaining green industry certifications.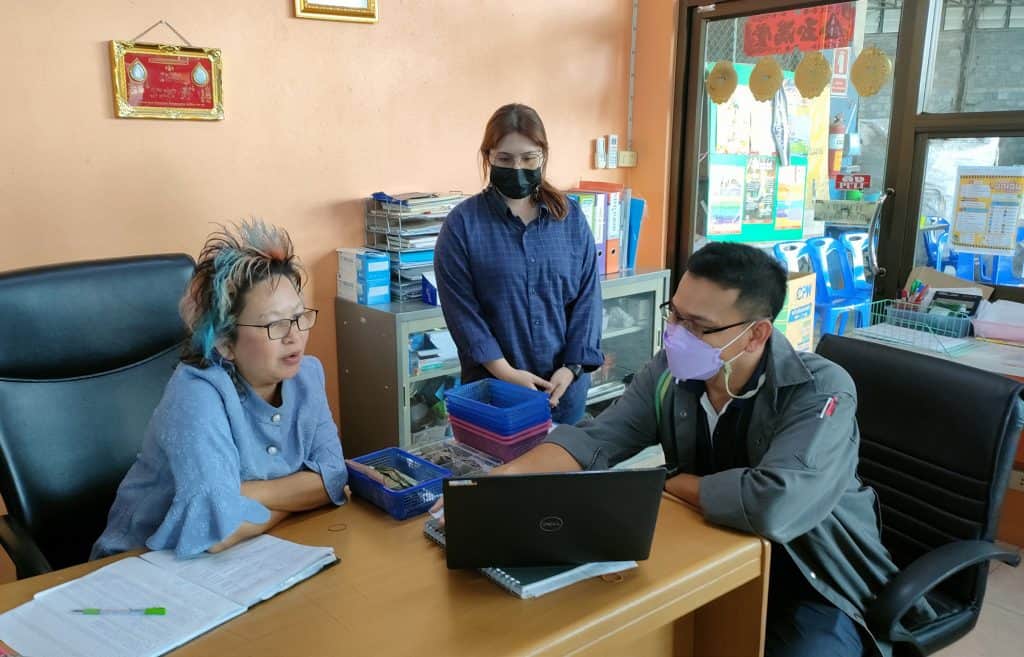 Supply Chain Management During and After the COVID-19 Pandemic
The COVID-19 pandemic has brought about a continuous stream of changes and challenges for businesses of all scales. Entrepreneurs across various sectors have felt the impacts of this ongoing crisis to varying extents. This includes our consortium of companies' associates, who have been particularly affected, especially those in mid-sized and family-owned businesses, facing more direct and severe repercussions.
Consequently, effectively navigating these trying times demands a strategic shift not just for our consortium of companies, but also for our associates. Adjusting strategies to ensure smoother business operations and addressing the current circumstances has become imperative. Our commitment remains unwavering in safeguarding our network of associates, supporting them in weathering these arduous conditions. We uphold our principles by treating each associate fairly, valuing prompt payments, and adhering rigorously to the established terms and conditions with our associates.
| | | | |
| --- | --- | --- | --- |
| Average Payment Periods (Days) | | | |
In 2022, we showcased multiple instances of operational excellence, productive collaborations, and unwavering support provided to our esteemed partners. Despite the hurdles presented by the global environment, our dedication to fostering robust partnerships and shared advancement remains steadfast.
Financial Support : Assisting the Construction Business Partner. In response to a partner within the construction business group facing financial liquidity challenges, we provided assistance. By introducing and endorsing this partner to the same financial institution as our company's group, we instilled greater confidence in financial institutions regarding our trading partners. This approach facilitated visibility into the partner's financial path, leading to risk assessment and reduction. Consequently, our partners were perceived as having reduced risk exposure, leading to favorable lower interest rates. This support resulted in decreased financial costs for our partners. Furthermore, financial institutions benefitted from new client acquisitions, creating a mutually advantageous scenario that decreased risks associated with collaborative operations.
Operational Efficiency : Streamlining Procurement. Our procurement department effectively managed overall orders for both the asphalt and construction businesses. This encompassed total orders and estimates for the purchasing agency, ensuring a comprehensive view for each project's requirements throughout the project lifecycle. This transparency allowed partners to plan production, delivery, and other operations efficiently. By providing advanced information, we aided partners in better preparing and executing their processes. This initiative ultimately contributes to enhanced project management and smoother collaborative efforts