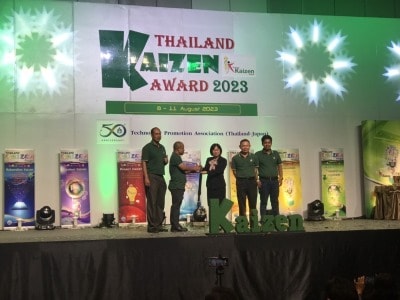 Tipco Asphalt Group wins Thailand Kaizen Awards 2023
Two Kaizen projects from Tipco Asphalt Group recently received Silver and honorable mention awards in the final competition of Thailand Kaizen Awards 2023, organized by Technology Promotion Association (Thailand-Japan) at BITEC, Bangna on August 11, 2023. Initiated by Suratthani plant and Nakhon Ratchasima plant, the projects are in the category of Kaizen Suggestion Systems, in which there is a total of 31 finalists. Total Kaizen project finalists, which are grouped into seven kaizen categories, amounted to 108, participated in this year's final competition held during 8-11 August, 2023, from over 1,000 project submissions in the first entry.
The Kaizen project from Suratthani plant, which won the Silver award, is called "Trailer Tail Guard", developed by Khun Pakapol Sujarit, a Senior Technician – Plant Maintenance. The target is to achieve zero truck accident. This project also contributes to business, with accuracy and on-time delivery, and to society, since it promotes road safety.
The Kaizen project from Nakhon Ratchasima plant, which won the honorable mention award, is called "Simple and no pain, using Electric impact wrench in steel drum's caps sealing" developed by Khun Sarawut Apiwantrairat – Staff – Filler. Initiated by the occupational health target, the work process of fastening caps on steel drums was manually conducted by employees. A result of ergonomic assessment — REBA (Rapid Entire Body Assessment) shows a high-risk score. The consequences of this led to leakage of caps, and rework on this process. Solving these problems does not only reduce time lost from rework, and improves our employees' occupational safety, but it also reduces time spent in the standard packing.